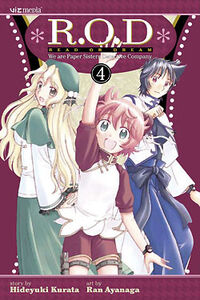 For love of books or love of money (to buy books), the Paper Sisters will take on any job. But as bodyguards for Hisami Hishiishii, a child-prodigy author, they may have bitten off more than they can chew. When a mysterious love letter gets in the way of Hisami's struggle to write her new novel, Michelle Cheung, Maggie Mui, and Anita King will have to call upon all their paper powers - and the bonds of their sisterhood.
Also, the sisters' origins are revealed for the first time... and a certain fellow Paper Master makes a special appearance! Don't miss the conclusion of Read or Dream!
Story by Hideyuki Kurata and Art by Ran Ayanaga.
The Last Chapter
In Japan, the manga had the title "Shin (New) Read or Die".
Release Information
Edit
Japan

Release Date: 19 August 2005
Serialized in: Ultra Jump
Published by: Shueisha

United States

Release Date: 8 May 2007
Page Count: 200