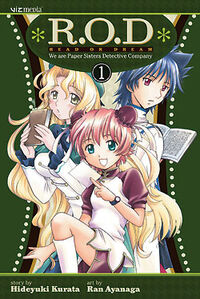 Michelle Cheung is a romantic daydreamer and hardcore book collector. Maggie Mui is a soft-spoken bookworm who always gets mistaken for a boy. Anita King is an athletic tomboy who doesn't have time for reading. Together, they're the Paper Sisters, three very different siblings united by a strange power. Michelle, Maggie, and Anita all have the ability to control paper in anyway they desire. And from their Hong Kong detective agency, they solve any and all cases involving books!
Story by Hideyuki Kurata and Art by Ran Ayanaga.
Three Sisters - One Power
In Japan, the manga had the title "Shin (New) Read or Die".
Release Information
Edit
Japan

Release Date: 18 July 2003
Serialized in: Ultra Jump
Published by: Shueisha

United States

Release Date: 14 November 2006
Page Count: 200
Published by: Viz Media
Extended Synopsis
Edit
Chapter 1
Edit
Kelly comes to the Paper Sisters Detective Company. An important book has been stolen from her and she asks the sisters for help.
Chapter 2
Edit
Chihon, a boy about Anita's age, asks the girls to help him return a book to the 'Phantom Library'.
Chapter 3
Edit
The Paper Sisters are out of money...and out of food.
Chapter 4
Edit
Anita finds a mysterious alien who was sent to Earth...to destroy it.
Chapter 5
Edit
Maggie, unsure about her role between her sisters, meets a blind girl named Fay.
Chapter 6
Edit
Maggie learns the truth about Fay.
Chapter 7
Edit
Anita orders her sisters to clean the apartment - namely, the books.
Bonus Story
Edit
Anita the chimney sweep is asked by a fairy Michelle to save Maggie from a demon.
Community content is available under
CC-BY-SA
unless otherwise noted.