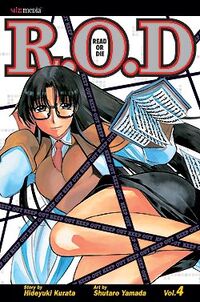 At the Manshu Academy, the secret underground library continues its feeding frenzy, while Yomiko struggles to make peace between the warring A and B level students. More chaos ensues when the Joseph Carpenter arrives with his squad of deadly commandos and a book called the True Diary that has the power to stop the underground library from eating students.
Story by Hideyuki Kurata and Art by Shutaro Yamada.
Episodes 24 - 30
Postscript
Release Information
Edit
Japan: 19 July 2002
United States

Release Date: 19 December 2006
Page Count: 216
Community content is available under
CC-BY-SA
unless otherwise noted.