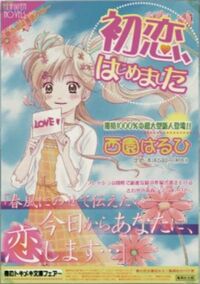 Biography
Edit
Haruhi Nishizono is the elder sister of Natsume Nishizono. Her Japanese voice actor is Yukari Tamura and her English voice actor is Jennifer Sekiguchi.
By the end of 2006, Haruhi has published three novels, "First Love, Now It's Begun!", "Love, Is It Still There?", and "Dream, Have you Found It". In the series ending, she is shown to have written another new novel, "Tears, Have They Stopped?".
Haruhi is a comteporary of Nenene Sumiregawa and a writer. Despite their contrasting styles, Haruhi respects and admires Nenene and hopes that Nenene will be able to complete her new novel soon. They share the same publishing company, which results in several encounters when Nenene meets with her editor, Mr. Lee.
As a writer, Haruhi is relatively new, but is very popular. She is often seen with bags of fan mail whenever she appears. She appears as an older, but less outrageous version of her younger sister.
The director of R.O.D -The TV- makes the difference between Nenene and Haruhi very stark. Although Nenene and Haruhi are the same age, Haruhi is very flamboyant and outgoing; Nenene generally keeps to herself and is calm and quiet.
Community content is available under
CC-BY-SA
unless otherwise noted.