Read or Die character
Alice Alice Arquette
Gender
Female
Age
31
Nationality
English
Occupation
Archeologist
Seiyū
Kae Araki
Voice Actor
Helena Taylor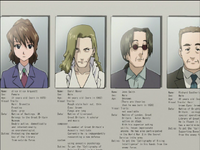 Biography
Edit
Alice Alice Arquette is a British citizen, born in Hastings in 1975. In her role as an archaeologist both in Britain and around the world, Alice was charged with protecting the master key of the library safe from outside forces. Alice is also known by her nickname, the Triple A.
An onsen freak, her family built a hot spring mountain resort.
In 2002, Alice was working for the British Museum. She was a British library agent whose mission was to retrieve the "Key" to activate the Sleeping Books, hidden an ancient storeroom under a hot spring mountain built by her family.
While investigating the ruins of an advanced ancient civilization in the Gifu Prefecture of Japan, Alice hides the master key to the Special Operations Division in a booby-trapped device.
When the ruins are under investigation in 2006, Alice returns, along with Drake Anderson as her bodyguard, in order to retake the key, since the new investigation would probably lead to the booby trap being activated, destroying both the key and the ruins.
Later she was impaled by Sunny Wong, killing her, if not drowned by the geyser. She was killed without mercy while surrendering by Sonny Wong, angering Drake, Nenene, and the Paper Sisters (despite the fact that Wong was technically there to help the Sisters), and Drake attempts to avenge her death.
Community content is available under
CC-BY-SA
unless otherwise noted.